Bergmann HTW 65 Forage Transport Trailer
Comments

12
501pages on
this wiki
Bergmann HTW 65 Forage Transport Trailer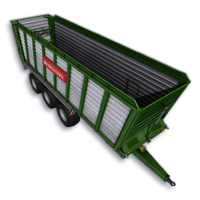 Despite its special purpose, this trailer cannot be attached to forage harvesters like Krone Big X 1000 Forage Harvester directly which makes it no better than any other general-purpose tipper like Kröger Agroliner SRB3-35 for instance which has a slightly bigger volume, comparable price and the very same limitation of not being compatible with harvesters and any other kinds of equipment with simple hitches.
Specifications
Edit
Loading volume: 55500 litres
Maintenance: 90 $ / day
Usage: Transporting chaff
Price: 75,000 $
Sell: 37,500 $
The Bergmann HTW65 transport trailer has been designed for all agricultural operations which require quickness and economic efficiency. This silage transport trailer stands out because of its robustness, driving stability and driving qualities.