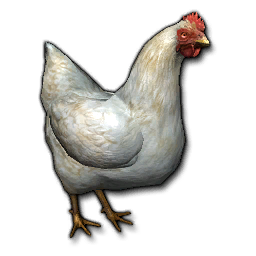 Chickens
are the cheapest and easiest of the three types of
animals
that appear in
Farming Simulator 15
. Chickens will produce eggs without requiring any food. The eggs can then be collected, and sold for a small amount of profit at certain selling points. The player can purchase as many chickens as desired, and periodically collect the eggs, which can be stored in the backpack, or sold at any time.
Even though chickens do not require any form of labor maintenance, they do have a small maintenance cost of € 1 per day, and an initial price of € 70. However, these small fees are quickly covered by the profit from selling the eggs. Despite the relatively quick break even, chickens cannot be a major source of profit, due the low selling price of an egg. While they may be more useful early on in a career, a player's time can be better spent once he has progressed further.
Specifications
Edit
Price: $70

Maintenance: $1 / day

Selling price: $35
The chickens are located on Your Farm in Bjornholm. They are directly below the player's house.
In Westbridge Hills, the chicken coops are at the east end of the large open yard in the center of the farm, opposite the hangar.
Ad blocker interference detected!
Wikia is a free-to-use site that makes money from advertising. We have a modified experience for viewers using ad blockers

Wikia is not accessible if you've made further modifications. Remove the custom ad blocker rule(s) and the page will load as expected.