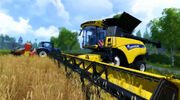 Crops include any cultivated plant that is planted and harvested by the player. The crops available in Farming Simulator 15 are nearly identical to those of Farming Simulator 2013. Some crops may be used in the feed and care of animals, while others are the result of forestry.
Fruit types
Edit
Farming Simulator refers to crops which are sown and grown as fruit.
Root crops
Edit
Byproducts of harvesting
Edit
Grain byproducts
Edit
Byproducts of harvesting wheat and barley:
Forestry byproducts
Edit
Ad blocker interference detected!
Wikia is a free-to-use site that makes money from advertising. We have a modified experience for viewers using ad blockers

Wikia is not accessible if you've made further modifications. Remove the custom ad blocker rule(s) and the page will load as expected.