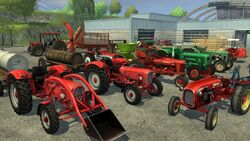 Farming Classics is the first, free DLC pack for Farming Simulator 2013. It was released April 19, 2013. It is shipped automatically with every Steam copy of the game. Owners of the standalone version of the game can download and install this DLC package from here.
Farming Classics item list:
Edit
Tractors
Front Loaders
Harvesters
Tippers
Cultivators
Plows
Sowing Machines
Fertilizer Spreaders
Manure Spreaders
Slurry Tanks
Mowers
Windrowers
Tedders
Loading Wagons
Baling Technology
Misc
Ad blocker interference detected!
Wikia is a free-to-use site that makes money from advertising. We have a modified experience for viewers using ad blockers

Wikia is not accessible if you've made further modifications. Remove the custom ad blocker rule(s) and the page will load as expected.