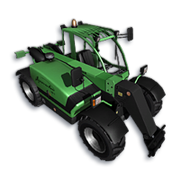 Front loader vehicles allow you to load crops and equipment onto transport vehicles or trailers. They perform tasks like bale and wool pallet handling, manure spreader refilling, silage transporting and more.
Farming Simulator 2013 Front Loaders
Edit
Ad blocker interference detected!
Wikia is a free-to-use site that makes money from advertising. We have a modified experience for viewers using ad blockers

Wikia is not accessible if you've made further modifications. Remove the custom ad blocker rule(s) and the page will load as expected.