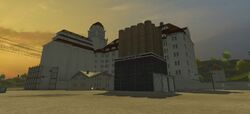 The Grain Mill is one of many notable locations of Hagenstedt map where you can sell your harvest. It is located between fields 25 and 28. The Mill will not buy potato or sugar beet but it usually pays the most for wheat and barley.
Ad blocker interference detected!
Wikia is a free-to-use site that makes money from advertising. We have a modified experience for viewers using ad blockers

Wikia is not accessible if you've made further modifications. Remove the custom ad blocker rule(s) and the page will load as expected.