Main article: Harvesters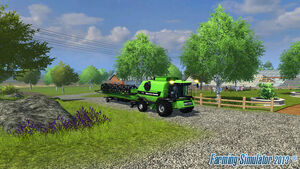 There are two types of harvesters within the game: combine harvesters and forage harvesters.
A combine harvester, or simply combine, is a machine that harvests grain crops. They evolved from the thresher, a farming implement that was stationary and run by an external power source. Later models were pulled by horses and driven by a ground wheel. Eventually, a tractor driven combine was possible. There were many developments of a self propelled model. The self-propeled harvester became more available in the 1940s.
In Farming Simulator 2013, the development of the combine can be seen. The first model is very basic without a large hopper. The models progress until the later models which feature a large hopper capacity and cutter width.
In agriculture, occasionally, a farmer may decide to purchase a combine head of a different brand. This may be due to a worn out head or to increase performance. This is also reflected in game- different heads can be mounted on different combines.
A forage harvester is a machine used to harvest forage plants to make silage. There are two sources of silage in game: grain chaff and mowed grass.
In game, grass and corn can be used to directly make silage. The harvester requires a tipper wagon to place chopped material. This can either be pulled by the chopper, or driven alongside it. The unloading arm will automatically follow the wagon.
In game, all harvesters are sold separately from the cutting head (Except for Farming Simulator 2014 where the Fahr M66 already has the cutter attached.)
Harvesters
Edit
Harvester
Cutter
(sold separately)
Price
(no cutters) ($)
Max. Speed / Max. Working Speed
(km/h (mph))
Capacity (litres)
Maintenance ($/day)
Fuel Tank (litres)

32,000

20 (13) / 9 (6)

1500

190

100

N/A

48,900

N/A / 19 (12) - 25 (16)

N/A

50

N/A

199,950

20 (13) / 9 (6)

4200

340

350

265,000

20 (13) / 9 (6)

8500

420

560

315,000

24 (15) / 9 (6)

9000

510

900

235,000

20 (13) / 9 (6)

10,570

260

945

329,000

30 (19) / 9 (6)

12,330

450

1,722

335,000

30 (19) / 9 (6)

12,330

455

1,722

Krone Easy Collect 1053 Corn Header

395,000

40 (25) / 9 (6)

N/A

600

1500

415,000

42 (26) / 9 (6)

N/A

440

1389
Specialty Harvesters
Edit
Some harvesters are made to harvest only one kind of crop, due to the complexities of harvesting that crop. These are listed below.
Potato Harvesting
Edit
Beet Harvesting
Edit
Strategy Tip
Edit
You can attach a larger cutter to your smaller, less expensive harvesters to increase their productivity.
Ad blocker interference detected!
Wikia is a free-to-use site that makes money from advertising. We have a modified experience for viewers using ad blockers

Wikia is not accessible if you've made further modifications. Remove the custom ad blocker rule(s) and the page will load as expected.