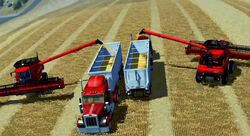 Harvesting is the process of removing the usable product from a fully-grown crop field. The leftover stalks or stems can be collected as straw.
Harvesting is accomplished by utilizing harvesting vehicles that separate the grains from the plants mechanically.
Harvesters either have storage inside them, or require a trailer to be attached or towed alongside the harvester to put the crop while harvesting.
Ad blocker interference detected!
Wikia is a free-to-use site that makes money from advertising. We have a modified experience for viewers using ad blockers

Wikia is not accessible if you've made further modifications. Remove the custom ad blocker rule(s) and the page will load as expected.