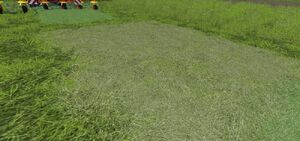 Hay is the result of tedding mowed grass. It can be windrowed (optionally) and then compressed into bales. Loading wagons can also be used to pick up your untedded grass for further silaging or feeding directly to your cows or sheep.
Hay bales are required for preparing Total Mixed Ration (TMR) in any mixer wagon to properly feed your cows.
Ad blocker interference detected!
Wikia is a free-to-use site that makes money from advertising. We have a modified experience for viewers using ad blockers

Wikia is not accessible if you've made further modifications. Remove the custom ad blocker rule(s) and the page will load as expected.