Maps (Farming Simulator 2013)
Comments

55
409pages on
this wiki
Available maps of Farming Simulator 2013.
Hagenstedt
Edit
Main article: Hagenstedt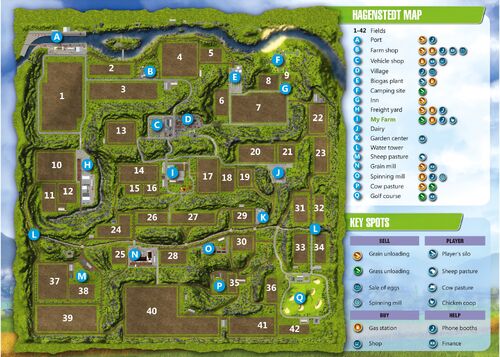 1-42 Fields
A Port
B Farm shop
C Vehicle shop
D Village
F Camping site
G Inn
H Freight yard
J Dairy
K Garden center
L Water tower
M Sheep pasture
O Spinnery
P Cow pasture
Westbridge Hills
Edit
Main article: Westbridge Hills
Westbridge Hills is a map available in Farming Simulator 2013 for Xbox 360 and PlayStation 3. It is also available as a part of the Titanium Add-on for Farming Simulator 2013 on PC and Mac.
1-21 Fields
A Baseball field
B Garden center
C Warehouse
D Village
E Camping site
F Train Station
G Shop
I Flour mill
J Sheep pasture
K Drive-in theater
L Dairy
M Restaurant
O Cow pasture
P Spinnery
Q Diner