Main article: Mods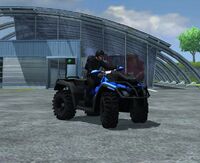 Mods are a feature that allow a player to download additional free content to enhance their gameplay.
Officially approved mods
Edit
Giants Sofware, the creator of Farming Simulator series, maintains a list of officially approved mods[1] for Farming Simulator 2013. The list can be accessed by pressing the Download Mods button located in the main menu of the game (Windows and Mac version).
How to install mods
Edit
When you download a mod file it will usually come in one of three file types:
.exe – These are the easiest to install. Once the file has downloaded just double click on it and when it runs it will install itself, done, run the game and test it.
.rar – These are compressed files, these usually contain mod packs or multiple mods at once which have been compressed to a single file to make downloading quicker. When the download finishes you need to extract all the files within the rar file. You will usually end up with either exe files or zip files. Rar files are also used for the map downloads and will usually require extracting to your data folder.
.zip – These are compressed files too. Check to see what files are contained within them. If there are zip or exe files then these will need to be extracted and exe files run. If a zip file contains the mod itself (seen as lots of various kinds of files and folders but not any rar, exe or zip files within) then the zip file needs to be copied into the mods folder of the game.
Mods folder location
Edit
Windows Vista/7/8: Documents\My Games\FarmingSimulator2013\mods\
Windows XP: My Documents\My Games\FarmingSimulator2013\mods\
Mac OS X App Store: /Users/USERNAME/Library/Containers/com.focus-home.farmingsim2013/Data/Library/Application Support/FarmingSimulator2013/mods
Mac OS X: /Users/USERNAME/Library/Application Support/FarmingSimulator2013/mods
Windows XP and later will open zip files and freely available tools such as 7-Zip[2]can open other archive types, including "rar" files.
Note: Only zip files will work in the mods folder.
References
Edit
Ad blocker interference detected!
Wikia is a free-to-use site that makes money from advertising. We have a modified experience for viewers using ad blockers

Wikia is not accessible if you've made further modifications. Remove the custom ad blocker rule(s) and the page will load as expected.