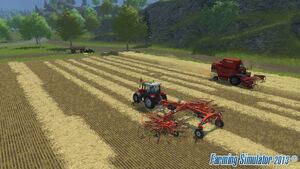 Multiplayer is a feature that was first introduced in Farming Simulator 2011. It allows farmers from all over the world to connect and work on the same farm simultaneously. The game supports LAN and internet multiplayer modes. Players are also able to setup a dedicated server which allows players to connect whenever thay want without worry of a server host leaving.
Whenever a new player connects to the server a message will alert all current players that a new player has joined, all current players will also have to wait for the new player to join before they can continue playing. Each player is represented by a player model which is usually a farmer with a cap and overalls, however in Farming Simulator 15 only the host wears a cap and all other players have no hat, and in Farming Simulator 17 players can choose between male or female.
The first mobile Farming simulator to feature online multiplayer was Farming Simulator 14 however it worked differently to the PC version as unlike the PC game you cannot leave you vehicle, this meant all players where only represented by the current vehicle they where inside.
Ad blocker interference detected!
Wikia is a free-to-use site that makes money from advertising. We have a modified experience for viewers using ad blockers

Wikia is not accessible if you've made further modifications. Remove the custom ad blocker rule(s) and the page will load as expected.