Versions:
Pöttinger Vitasem 302 (Farming Simulator 14)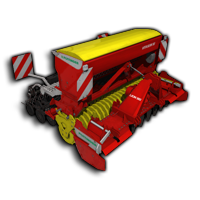 The Pöttinger Vitasem 302 is the starter sowing machine available in Farming Simulator 14. The machine can plant canola, wheat, and corn. It has also been seen in trailers for Farming Simulator 15.
Specifications
Edit
Price: $18,000

Maintenance: $?
Capacity: 400 L

Working width: 3.0m

Selling price: $9,000 ($10,800 at shop)
Ad blocker interference detected!
Wikia is a free-to-use site that makes money from advertising. We have a modified experience for viewers using ad blockers

Wikia is not accessible if you've made further modifications. Remove the custom ad blocker rule(s) and the page will load as expected.