The Rostselmash Niva is a combine available in Farming Simulator 15 Gold DLC. This harvester is only available to those who pre-ordered the Gold edition.
Specifications
Edit
Price: $75,000

Maintenance: $670 / day

Capacity: 3,000 L

Max power: 114 kW / 155 hp

Max speed: 22 km/h / 14 mph

Fuel capacity: 299 L

Selling price: $37,500 ($45,000 at shop)
Mass: 7,350(empty) 8,580(full) kg / 16,204(empty) 18,915(full) lbs

Compatible Headers
Edit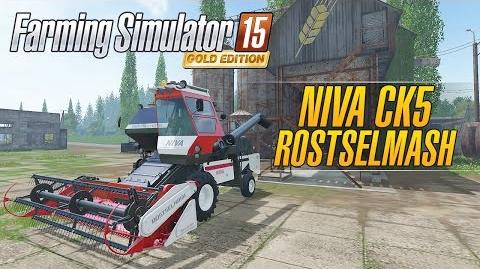 Ad blocker interference detected!
Wikia is a free-to-use site that makes money from advertising. We have a modified experience for viewers using ad blockers

Wikia is not accessible if you've made further modifications. Remove the custom ad blocker rule(s) and the page will load as expected.