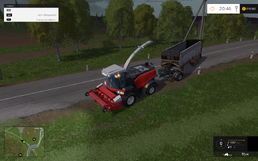 The Rostselmash RSM 1403 is a forage harvester available in Farming Simulator 15, Gold DLC. It can connect to the dolly, and through the dolly, the fifth wheel trailers.
Specifications
Edit
Price: $229,000

Maintenance: $750 / day

Max power: 325 kW / 442 hp

Max speed: 43 km/h / 27 mph

Max speed (work mode): 6 km/h / 4 mph

Fuel capacity: 1,079 L

Selling price: $114,500 ($137,400 at shop)
Mass: 9,859 kg / 21,735 lbs

Compatible Headers
Edit
Ad blocker interference detected!
Wikia is a free-to-use site that makes money from advertising. We have a modified experience for viewers using ad blockers

Wikia is not accessible if you've made further modifications. Remove the custom ad blocker rule(s) and the page will load as expected.