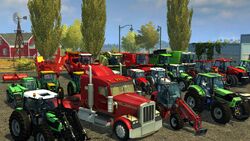 Titanium Add-on is the fourth DLC pack of Farming Simulator 2013. It was released on October 2nd, 2013. Most of the contents of this add-on are included in the XBox 360 and Playstation 3 versions of the game.
Anyone who buys Farming Simulator 2013 on Steam after the September 23rd, 2013 date will also receive this add-on free of charge.
Harvesters
Edit
Cultivators
Edit
Sowing Machines
Edit
Slurry Tanks
Edit
Windrowers
Edit
The following items were included for those who purchased the add-on from the official site:
Bonus Tractors
Edit
Ad blocker interference detected!
Wikia is a free-to-use site that makes money from advertising. We have a modified experience for viewers using ad blockers

Wikia is not accessible if you've made further modifications. Remove the custom ad blocker rule(s) and the page will load as expected.