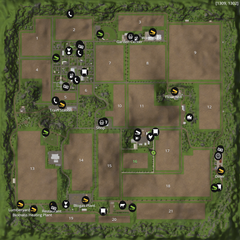 Westbridge Hills is a map available in Farming Simulator 15, based on a previous version of Westbridge Hills that appeared in the Titanium Add-on for Farming Simulator 2013.
The map is distinctly different from Bjornholm, the other map available in Farming Simulator 15. Whereas Bjornholm has many hills and areas designed specifically for Forestry, Westbridge Hills is primarily flat and does not contain forests. Players desiring to log the Westbridge Hills map may have to plant their own trees, as there are very few trees on the map which are ideal for woodcutting.
Strategy
Edit
This is the Ideal map to start on if you are interested in farming. It starts you off with a vast field, and there are numerous other fields that are even more spacious. It is not advisable to undertake a forestry operation because of the lack of pre-grown forests. You will have to plant your own trees from the start, and it would be much more profitable to conduct this in Bjornholm.
Starting Equipment
Edit
Crop Yield
Edit
The following table lists the amount of crops that can be harvested per field. Crop yields followed by an "F" are fertilized.
Field
PRICE
size
BARLEY

 

BARLEY F
CANOLA
CANOLA F
CORN
CORN F
WHEAT
WHEAT F
POTATO

 

POTATO F
SUGAR BEETS

 

SUGAR BEETS F

 

1
$195,900.00
6.55
72,050
144,100.00
39,300.00
78,600.00
78,600.00
157,200.00
78,600.00
157,200.00
262,000.00
786,000.00
227,500.00
455,000.00
2
$168,600.00
5.63
61,930
123,860.00
33,780.00
67,560.00
67,560.00
135,120.00
67,560.00
135,120.00
225,200.00
450,400.00
197,050.00
394,100.00
3
$134,700.00
4.5
49,500
99,000.00
27,000.00
54,000.00
54,000.00
108,000.00
54,000.00
108,000.00
180,000.00
36,000.00
157,500.00
315,000.00
4
$163,880.00
5.47
60,170
120,340.00
32,820.00
65,640.00
65,640.00
131,280.00
65,640.00
131,280.00
218,800.00
437,600.00
191,450.00
382,900.00
5
$34,500.00
1.15
12,650
25,300.00
6,900.00
13,800.00
13,800.00
27,600.00
13,800.00
27,600.00
46,000.00
92,000.00
40,250.00
80,500.00
6
$29,100.00
0.97
13,340
26,680.00
5,820.00
11,640.00
11,640.00
23,280.00
11,640.00
23,280.00
38,800.00
77,600.00
33,950.00
67,900.00
7
$219,000.00
7.31
80,410
160,820.00
43,860.00
87,720.00
87,720.00
175,440.00
87,720.00
175,440.00
292,400.00
584,800.00
255,850.00
511,700.00
8
$268,500.00
8.96
98,560
197,120.00
53,760.00
107,520.00
107,520.00
215,040.00
107,520.00
215,040.00
358,400.00
716,800.00
313,600.00
627,200.00
9
$603,900.00
20.16
221,760
443,520.00
120,960.00
241,920.00
241,920.00
483,840.00
241,920.00
483,840.00
806,400.00
1,612,800.00
705,600.00
1,400,200.00
10
$117,000.00
3.91
43,010
86,020.00
23,460.00
46,920.00
46,920.00
93,840.00
46,920.00
93,840.00
156,400.00
312,800.00
136,850.00
273,700.00
11
$345,000.00
11.55
127,050
254,100.00
69,300.00
138,600.00
138,600.00
277,200.00
138,600.00
277,200.00
462,000.00
924,000.00
404,250.00
808,500.00
12
$203,100.00
6.78
74,580
149,160.00
40,680.00
81,360.00
81,360.00
162,720.00
81,360.00
162,720.00
271,200.00
542,400.00
237,300.00
474,600.00
13
$480,000.00
16.03
176,330
352,660.00
96,180.00
192,360.00
192,360.00
384,720.00
192,360.00
384,720.00
641,200.00
1,282,400.00
561,050.00
1,122,100.00
14
$303,600.00
10.13
111,430
222,860.00
60,780.00
121,560.00
121,560.00
243,120.00
121,560.00
243,120.00
405,200.00
810,400.00
354,550.00
709,100.00
15
$286,500.00
9.56
105,160
210,320.00
57,360.00
114,720.00
114,720.00
229,440.00
114,720.00
229,440.00
382,400.00
764,800.00
334,600.00
669,200.00
16
$81,900.00
2.74
30,140
60,280.00
16,440.00
32,880.00
32,880.00
65,760.00
32,880.00
65,760.00
109,600.00
219,200.00
95,900.00
191,800.00
17
$198,000.00
6.61
72,710
145,420.00
39,660.00
79,320.00
79,320.00
158,640.00
79,320.00
158,640.00
264,400.00
528,800.00
231,350.00
462,700.00
18
$549,300.00
18.34
201,740
403,480.00
110,040.00
220,080.00
220,080.00
440,160.00
220,080.00
440,160.00
733,600.00
1,467,200.00
641,900.00
1,283,800.00
19
$87,900.00
2.93
32,230
64,460.00
17,580.00
35,160.00
35,160.00
70,320.00
35,160.00
70,320.00
117,200.00
234,400.00
102,550.00
205,100.00
20
$50,400.00
1.68
18,480
36,960.00
10,080.00
20,160.00
20,160.00
40,320.00
20,160.00
40,320.00
67,200.00
134,400.00
58,800.00
117,600.00
21
$241,200.00
8.05
88,550
177,100.00
48,300.00
96,600.00
96,600.00
193,200.00
96,600.00
193,200.00
322,000.00
644,000.00
281,750.00
563,500.00