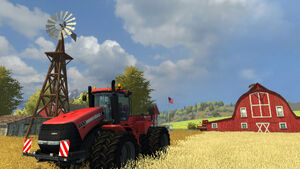 Westbridge Hills is the second official map of Farming Simulator 2013. It ships with the console versions of the game. It is also part of Titanium Add-on available for PC and Mac. The map is set in a small mid-west American farming town and features much larger fields, and a reduced profit from processing silage at the local biogas plant, to encourage more focus on harvesting grain.
Tip: It is still possible to receive full price of silage sold by selling wrapped hay bales made with the Ursus Z-586 Round Bale Wrapper.
Locations
Edit
Refer to the full map for a complete list of locations.
You start your game with field number 16. The map has extensive fields, so you need better machinery.
Ad blocker interference detected!
Wikia is a free-to-use site that makes money from advertising. We have a modified experience for viewers using ad blockers

Wikia is not accessible if you've made further modifications. Remove the custom ad blocker rule(s) and the page will load as expected.